Okay, this post isn't going to be
all
about meat, but since I can eat meat again following lent, expect some meals with meat now ;). I'm not the biggest meat eater, but after giving meat up for lent and struggling to find healthy options in the cafeteria without meat and dairy was quite the struggle. I have definitely been enjoying the last few days not having to say "I'll have the salad without chicken" or "I'll have a sandwich without meat and cheese." I definitely got weird looks with the second one.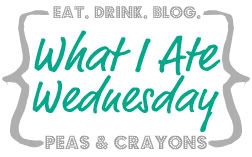 Anyway, let's move on to yesterday's eats in normal
What I Ate Wednesday
fashion, shall we?
After a weekend of celebration of Easter (lots of Church, little sleep), I am finally back on my sleeping schedule and I finally woke up refreshed. I was ready for my usual breakfast, but the caf was out of both the Kashi cereal and bananas. Sigh.
I settled on Special K Red Berries cereal with almond milk, a green apple, and coffee with a splash of almond milk. It wasn't my favorite, but it filled me up and kept me satisfied through class.
I packed a snack and had it packed in my backpack ready to snack on between classes, but I ended up using a my tote bag instead of my backpack and forgot to switch the snack over. I realized it as soon as I sat down to eat it and realized my snack was back in my dorm room. Luckily my class is only 50 minutes so I just headed to lunch right after.
For lunch I had a Michigan Cherry Pecan salad with chicken and a side of grapes. It was so nice to have a salad with chicken on it and it was a delicious salad too!
A few hours later I was ready for a snack so I snacked on a Peanut Butter Cookie Larabar-- my favorite flavor! It was nice to snack on what tastes like a treat but is actually a clean bar!
I wasn't eating dinner until a little later than usual so I just had to have a slice of a dairy-free banana bread my mom made me over the weekend. She gave me the leftovers to take back to school and it's taking all my willpower not to eat the rest of it in one sitting.
Dinner was with my college church group as we celebrated Easter and the end of the semester. We enjoyed lamb, salad, pasta, and cheese & crackers. It was so good and it was nice to see everyone before we all head out separate ways for the summer. I may or may not have had a cookie too ;)
Unfortunately, I got a stomach ache after eating the dinner (thanks dairy), but it was too good to regret eating. I hopped on the stationary bike when I got back to my dorm and I felt much better after getting a good sweat in. It's amazing what a good workout can do for you!
Alright, time for me to finish breakfast and get to class to get this day rolling! Next week is finals week so it is time to get studying and prepare for the craziness of next week. All I can think about is being done with the semester a week from tomorrow! It's crazy how fast time flies!!