Happy Hump Day! Halfway through the week already! I am back at it again this week for another round of What I Ate Wednesday, which actually features what I ate on Tuesday (yesterday). You can see my first post
here
and you can see the WIAW link-up on Peas & Crayons
here
. Thank you Jenn for hosting this awesome link up!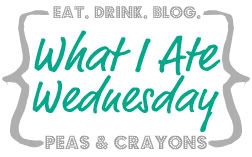 Let's get to it...
I seriously never get sick of this breakfast. I seriously wake up looking forward to eating breakfast, which is crazy for me since I used to hate eating breakfast. Today's breakfast consisted of Kashi Go Lean cereal with almond milk, a banana, coffee with a splash of almond milk, and water.
Between my two classes for the day I snacked on some raisins to hold me over until lunch.
Once I was done with my two classes for the day I headed over to the cafeteria for a quick lunch before heading to the library for the afternoon to take an exam for my online class.
I had vegetarian vegetable soup with a small slice of bread...
and a flat-out sandwich consisting of veggies, oil, and vinegar. No meat, no cheese for this girl!
And a side of carrots and hummus too.
Once I got to the library I sipped on some coffee with a packet of stevia while getting ready to take my exam.
After my exam, I stayed at the library to get more studying done for my exam on Thursday. Around 2 I snacked on apple.
For dinner I had a salad from the salad bar with pretty much every vegetable and chick peas. I went to get some salad dressing and all they had were salad dressings with dairy :(. They usually have an oriental dressing that I loooove but no luck this time. I noticed they were serving mexican food at one of the food stations so I went over and added salsa and guacamole as salad dressing. The guacamole was the best! I will definitely be using that in place of salad dressing more often!
After dinner I headed to a meeting then straight back home for a quick run. Post-run snack was a rice cake topped with sunflower butter to top off the night.
It was a pretty good day of eats and I found perfect snacks for brain fuel through my exam and studying!
Have a wonderful rest of your hump day and I shall chat with you soon! :)